Originally posted on 24th September 2021
There are many approaches in naturopathy, as to how the effects of toxins can be eliminated with the help of particular remedies or by applying certain methods. However, it appears to be less commonly known how the appropriate soul-spiritual development can strengthen the healing of damages, the effects of toxins or unpleasant psychological impairments.
Examples of a naturopathic approach
Methods of cleansing the body, or removing toxins, radiation damage and accumulated waste products, are usually the main areas of naturopathic treatment. Fasting or diet are very commonly used and then there are various phytotherapeutic treatments, for example, herbal teas can cleanse the organs and flush out waste products through the kidneys. Another method of detoxing can be achieved using high potency homoeopathic medicine. For example, the vaccine could be taken with a decimal strength of 30 that creates a most subtle attunement, which aims to activate the workings in the organism to confront the contents of the vaccine again.
Although these methods of elimination are all justified, they lack the effective, future-orientated process of formation. Elimination, as the word suggests, leads, or at least should lead, to a removal of toxins that cannot be tolerated. The hope that a purified organism is able to achieve healthy absorption of nutrients and intact protein synthesis is quite conceivable; having said this, vaccination poses a particular challenge that is very difficult to remedy only through material means. Both the corona crisis and the subsequently developed vaccine, which reaches into the cell system and the genetics, represent a unique challenge in history which could be described as a crossroads between material dependency and mental-spiritual strengthening. This vaccination is a material intervention into the physicality and cannot be remedied by material methods, without linking them to the idea of a next and possible soul-spiritual development. It calls for the need to ask questions on spirituality.
The defiled or stressed vascular system, in which the spike protein is positioned, as a result of vaccination, often displays autoimmune reactions and therefore, thrombosis, congestion, occlusive arterial disease, and general disturbances in the joints or sometimes even in the nervous system. Toxins continue to accumulate in terms of a disharmony between humoral and cellular defences and place a general burden on the blood and metabolic systems. Vaccination against corona poses a great challenge to the organism, because the so-called spike protein, that has the appearance of a spikey protein, is formed, but this does not happen in the mucous membranes, where colds or other viral respiratory infections occur, but in the humoral defence and that is the blood system.1)There is an interesting comment from Professor Dr. Schubert, who says that a pathogen must have a psychological and social equivalence. This means that a pathogen corresponds to the contemporary conditions of the societal system. One could also expand this to say that the way in which vaccination is understood today is a mirror of the phenomena of the times. See his article Artikel Analyse zu Pandemien (Analysing Pandemics) on the internet site Respect (in German)
Corona disease and the vaccine show strange similarities and many common secondary symptoms. What is the illness we see with corona? It definitely draws nearer to individuals when they succumb to suggestion and manipulation or get into disharmonious relationships. Basically, it would not be a serious illness, but rather a relatively easy to manage inflammatory response to a disturbance relating to the integrity of the consciousness in relation to the unconscious components. An infection is usually contagious, yet there are no defined laws governing its transmission. Some people say that the vaccinated release the so-called spike protein, also transporting a kind of infection to others, and that this spikey protein, which acts in the vessel walls, can be transmitted without injection and through contact alone.2)The phenomenon of transmitting spike proteins via body fluids is known as shedding. Vaccine shedding is the term used to describe the transfer of spike proteins or accompanying substances from the vaccinated to the unvaccinated, which occurs through the excretion of fluids such as mucus (through coughing or even normal breathing) or other body fluids such as breast milk. According to the current scientific consensus, shedding is possible, but no scientific evidence has yet been given. (see the German article Schlimmer als die Krankheit (Worse Than the Disease) on the Schild Verlag website). This assumption, however, is wrong. It is correct, however, that a form of transmission occurs, by way of an astral influence, i.e. a kind of contamination of the sphere. Just as a smoker forces others to smoke, in the same way, there are strong movements in people's unconscious soul bodies; fear, weakness and disharmony, which are also transmitted to fellow human beings, who therefore develop symptoms similar to those that occur through vaccination. In the last few months there have been numerous autoimmune reactions with rheumatic symptoms that can be associated with the vaccine. Although those affected have not had the vaccine, they have, however, been in close contact with people who have. If the astral body (which constitutes a kind of finer consciousness body in invisible form) is studied, these symptoms can be explained as of an influencing sphere.
Furthermore the vaccine affects the regulation of the interaction between the RNA and DNA. It therefore penetrates into the cell plasma or the cell nucleus, depending on the type of vaccine. One could believe that the cell, with its genetic uniqueness, represented the beginning of physical life and, as a result of this quickly formed point of view, the overarching cosmic and spiritual dimension of the human being would be excluded. Generally, in this time of materialism, there is a way of thinking, which does not originate from an overarching steering system, but from a determination that arises from the genomes of the cell. In a time when matter is penetrated into the smallest particles, the overarching and supersensible reality is practically lost sight of. However, after well founded spiritual reflection, RNA and DNA are not the initial elements of physical-human development, but rather form the inimitable end stations of individualised human life. They consist of phosphates, sugar and the four different nucleobases, which are molecules with many nitrogen atoms, and also hydrogen and oxygen. A greater reality, which expands spiritually far across the cosmos, expresses itself in the specific RNA and DNA structure and maintains this, appearing to be one of the most central places for determining the stream of life. From a spiritual point of view the apparent beginning forms the end point and therefore the genetic regulation also follows higher spiritual laws.
The difference between a cure that is still materially bound to a restitutio ad integrum or, perhaps better said, restitutio integrans, to a complete reconstruction through a soul-spiritual, positive response towards development, is very great. The deeper the vaccination reaches into the genetic system and into the regulatory mechanisms of the entire vegetative system, the higher or, to put it differently, the more freely the healing reconstruction must take place. From a spiritual point of view a good diet, drinking cleansing teas and even the use of high potency homoeopathic remedies cannot, in the case of this vaccine, bring about any real regeneration. Corona disease, in particular, but also the vaccines drive the further development of the human psyche by bringing specific questions.
The laws in the earthly world are borne of spiritual laws
In the astral body, or, if you express it otherwise, in the principles that correspond to both human and cosmic consciousness, a very wondrous and universal law exists. This says that a negative force, a destructive or common evil remains until a new and next reality is born. In relation to human development, this universal law leads to an unequivocal developmental challenge with a limit crossing aspect. Only when higher virtues, nobler ways of behaving, more veritable research and more comprehensive holistic observations are brought into reality through development-work, can negative habits and forms of behaviour abate. As it were, the weight of the morning dew can only dissipate when the light of the next day dawns.
The Italian doctor Mario Amici, who is managing various hospitals in Lombardy, was frequently interrupted by the TV presenter when being interviewed on the prospect of the upcoming vaccinations. He spoke from clinical experience and noted that one of the causes of the high numbers of corona cases is the vaccinations that have taken place so far. With some closer observation, it can be determined that the infection rate has, as a rule, increased with each new vaccination. When a disease is vaccinated against, a mutating variant is encouraged or eventually a differently rooted inflammatory response will flare up due to the inevitable weakening of the organism.
Both the many infections that will occur in the future due to the vaccine, as well as, all the adverse reactions, weaknesses and diseases that will develop, again, as a result of the vaccine, requires that every individual consciousness activates its mental potential to a high degree. The question of development of the individual gains an important significance. Does every individual person not really want to accomplish a next step toward a next conceivable future? Does there not directly exist in every person's soul that longing hope that they release a fair measure of materialism and take up a new perspective founded upon deeper and more amiable relationships? Does humankind descend into the depths simply because it longs for a greater height with a nobler view?
At any rate, the astral body lives in every single human being in the form of a consciousness and also an unconsciousness. This astral body wants to radiate and expand over the earth, like the light that breaks the new day. The time in which centralised systems can and should govern people is definitely out of date. It is the spiritual world that wants to nudge humankind towards developing and, in a sense, even prevents it from a final fall into matter.3)You can also watch the video 12 Spiritual Future Impulses, minutes 7:00 to 12:40. Vaccination and the whole nature of politics, that is materialistically oriented, must claim many sacrifices. But what is it like when looking at the spiritual dimension? People no longer want to linger in their old habits, they want to reorientate themselves and view new horizons. They want to climb to new summits and leave the pits of consumption and the physical dependencies behind. But there are still no clear visions of what this new summit could look like, how it wants to be experienced and how the human soul wants to fulfil the culture that has not yet been conceived.
An evil only dissolves when the resurrection of purer, truer and more attainable prospects enters. This law lives in the creation of worlds.
The development of a free and grounded ability to build a mental picture as a healing remedy for the future
As a rule, a remedy is always founded on a material, physical basis. In naturopathy, however, there is still the traditional knowledge that it is not just the substance to which a comparable, balancing, substantiating or purifying effect can be ascribed, but the so-called formative forces, the finer etheric dimension that lives in a plant or mineral substance. It should be well known that living water from a spring has different life forces with a refreshing character than ordinary piped tap water. On the one hand, the substance forms a basis that the human body needs, and on the other hand, it is furthermore an aliveness, the etheric substance that still lives in the matter, which leads to a regenerative strengthening of the organism.
As soon as language reaches the next finer dimension, which lives behind a remedy and which can be described as the so-called etheric component, the question increasingly arises as to whether people have the ability to generate this aliveness that they can absorb through a remedy, from themselves and from their soul. The healing power of love, care and genuine perceptiveness are generally recognised. However, people do not generally know and value the creative power of forming real and concrete mental pictures as a sensitive, even, in a sense, metaphysical remedy. The ability to form objective, relevant, emotion-free and attachment-free mental pictures about a future, leads human consciousness beyond the old limiting idea of genetics and opens up a tangibly new perspective. The whole of humanity, today, is at a crossroads and must develop the ability to create sincere and future oriented mental pictures for a healthy, cultural, aesthetic and spiritual experience. The self-determination of each individual will never be enabled in the absence of a mental, forming ability of thought. To remedy the centralising system of today requires the self-empowerment of every human's inner centre and this consists of the ability to form an objective, valid and viable mental picture of a topic, a phenomenon or a fellow human being.
The more the person who is ill can form a free and objective mental picture of themselves, their illness, of their fellow human beings and furthermore of visions of the future, the more they ground themselves in an appropriate, timely and meaningful development. They increase their ability to be resilient. Their relationally conscious activity, stemming from this mental creativity gives rise to healthy, more real feelings and these, in turn, grant them a really veritable life force. Integrity requires this development step. It must not degenerate into extreme intellectualism, but into a real, orderly ability to perceive and a logically conducted thinking effort.
A woman said in a consultation that she had been vaccinated and was now very weak. When the therapist asked why she had decided to be vaccinated, she replied, "I got the vaccination because my children refused to meet me and no longer came to family meals". The therapy could now on no account be based on a naturopathic method. The right building of mental pictures now had to ensue, despite the feelings of weakness that had set in as a result of the vaccine. The mother dealt with her attachments and furthermore overcame her fear of rejection or exclusion. After she had formed an objective mental picture of the situation, both of her family and of the pressure to get the vaccination, which arose not for health reasons, but purely from personal motives of dependency and also of herself, she quickly recovered. Her dejected charisma became freer and she became aware of how her breath began to swing, alive once again in a hopeful expanse. At the same time she was able to improve the family situation and contribute to a comparatively greater awareness with noteworthy respect for the individuals.
Humankind today not only needs a healthy and organic diet in order not to be subjected to too many artificial substances, it also crucially needs the ability to form objective and free mental pictures. It would be that healthy light, the fluid of the soul's first spiritual expression. The more an individual person acquires a really valid mental picture of something, for example of a religious formulation, the more they can overcome dogmatic forms and can enter into a free, relational, non-polarising dialogue. In all areas in which people are active, they must develop objectively valid perceptions and unfold an independent, logical way of thinking. If they only obey an ostensible dogma of the times out of passive submission, such as being in solidarity with society by getting a vaccination, if they follow rules and regulations without thinking about them, their soul conclusively lacks that ability to independently participate in and build relationships. The lack of ability for independent self-determination with active forming of a concrete mental picture ultimately leads to a lack of feeling and subsequently to weakness of will. This deficiency in the soul is as real as a protein deficiency and this has the consequence that the human mind will be afflicted by innumerable external influences.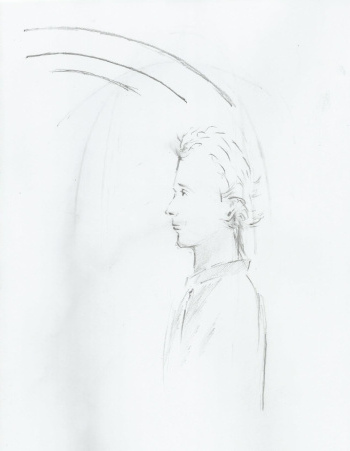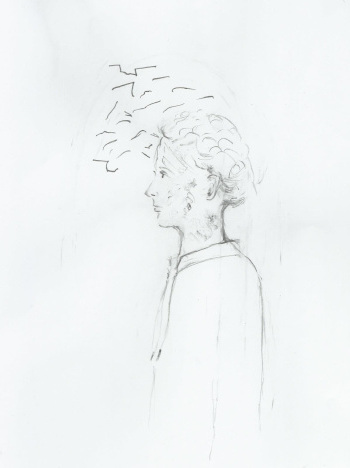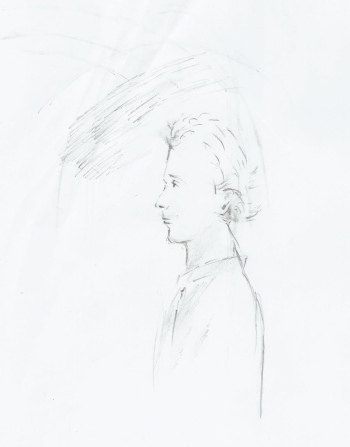 Today, if one learns to perceive the spiritual world even only to some extent, one will inevitably come to the conclusion that large centralised systems are anachronistic and that an individual strengthening of people as a next developmental step, like an anticipation, urgently approaches. What dimension can one see in the spiritual world? This spiritual world, in relation to humanity, is none other than that particular dimension that pushes its way into development. The individual is therefore not a lovable monkey that could be controlled by artificial intelligence; they are a creative citizen and if they cannot do justice to this inherent disposition, they must reveal all sorts of foolish behaviours.
In life, the activity of creating mental pictures can be brought to a high qualitative level through daily practice. Every exercise always begins with an objective relationship to a topic or to a manifestation of existence. In order for this free directing of the senses, of thinking, and finally of feeling perception, to occur, the practitioner must detach themselves from the emotional ties they have brought with them and from all swift, reactive emotions, as well as, from ingrained habits and patterns of desire. There is a need for every objectively valid mental picture to overcome the given subjective state of being of the moment.
Someone who, for example, has experienced religious mental pictures through their upbringing and subsequently through a religious affiliation, habitually feels at home in these forms. They experience a kind of security in faith. But what security do these learned, adopted and familiar formulations offer? Isn't the belief in vaccination also a kind of perceived security that merely arises from newspaper reports and apparent promises of the health authorities? At any rate, the belief in vaccination lacks the real and conscious formation of mental pictures. The question does not necessarily have to be whether someone is vaccinated or whether they in principle reject and negate the vaccine. For people's health it is important that everyone acquires a sufficient understanding of health, of vaccination, of the possible consequences of the disease and the current predicament of being human. Both rejection of the vaccine and advocacy of it, without sufficient building of mental pictures and consciousness work, leads to a deficiency in the soul, which generally speaking in the future must bring with it a multitude of illnesses. The question of health depends above all on a positive response to the possibility of human development. Today people need their own mental shaping of the thought life, which subsequently leads to a larger radius of relationship and creates happy, healthy, true feelings in the soul body.
One can say that the problems that arose with corona and the failure of the many political systems and ultimately also the serious weakening of the health generated by vaccination can only be resolved by a non-material response. As long as one is looking for remedies, such as high homoeopathic potencies, to remove the poisoning effects of vaccination, one remains in a very contained sphere of interpreting health. The actual activity of developing objective and real mental pictures places a demand on every individual consciousness and many would like to turn to a more material means to safeguard their health. Good old matter, if it were only tangible enough, seems to give people the best security. The fallacy, however, is great, because the development of humanity requires precisely that crossing of limits, to mentally activate one's own forces, which, after in-depth experience, would offer a solid security. Today, a crossing of limits, in the sense of transitioning from an effectively materialistic believing to a really objective orientation of consciousness, is required of humankind.4)The forming of mental pictures always works very well against hazy states of consciousness and it protects against propaganda or attacks of suggestion. See Rudolf Steiner in Soul Science, quoted from Dr. Harald Haas p. 136: "In this way, what happens through the soul in the twilight of the dream can be brought into the bright light of consciousness. One accomplishes the opposite of what happens through foreign or auto-suggestion. With this something is moved out of the half-darkness and in this half-darkness into the soul life, which one then regards as reality. In the case of the fully deliberate activity of the soul that is indicated (what is meant is an objective imaginary activity), something is placed in front of the inner perception with a clear consciousness that is only viewed as an illusion in the fullest sense of the word."
Anmerkungen

⇑

1
There is an interesting comment from Professor Dr. Schubert, who says that a pathogen must have a psychological and social equivalence. This means that a pathogen corresponds to the contemporary conditions of the societal system. One could also expand this to say that the way in which vaccination is understood today is a mirror of the phenomena of the times. See his article Artikel Analyse zu Pandemien (Analysing Pandemics) on the internet site Respect (in German)

⇑

2
The phenomenon of transmitting spike proteins via body fluids is known as shedding. Vaccine shedding is the term used to describe the transfer of spike proteins or accompanying substances from the vaccinated to the unvaccinated, which occurs through the excretion of fluids such as mucus (through coughing or even normal breathing) or other body fluids such as breast milk. According to the current scientific consensus, shedding is possible, but no scientific evidence has yet been given. (see the German article Schlimmer als die Krankheit (Worse Than the Disease) on the Schild Verlag website).

⇑

3
You can also watch the video 12 Spiritual Future Impulses, minutes 7:00 to 12:40.

⇑

4
The forming of mental pictures always works very well against hazy states of consciousness and it protects against propaganda or attacks of suggestion. See Rudolf Steiner in Soul Science, quoted from Dr. Harald Haas p. 136: "In this way, what happens through the soul in the twilight of the dream can be brought into the bright light of consciousness. One accomplishes the opposite of what happens through foreign or auto-suggestion. With this something is moved out of the half-darkness and in this half-darkness into the soul life, which one then regards as reality. In the case of the fully deliberate activity of the soul that is indicated (what is meant is an objective imaginary activity), something is placed in front of the inner perception with a clear consciousness that is only viewed as an illusion in the fullest sense of the word."